News -
Latest News
Saturday, 23 April 2011 08:37
To play on A Game of Thrones, you will need Neverwinter Nights 2 and its two expansions: Neverwinter Nights 2 Mask of the Betrayer and Neverwinter Nights 2 Storm of Zehir. If you do not own Neverwinter Nights 2 yet, you can purchase the Neverwinter Nights 2 Platinum Edition

(from Amazon), which has everything you need bundled in one convenient package.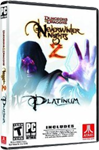 Before connecting to our server, please take a moment to review our rules, races, and classes. It won't take long and will get you acquainted with the bare essentials.
Once you are ready to join the game, launch NWN2 in MultiPlayer mode and login with your game credentials. At the multiplayer menu, click Direct Connect and type in the IP address of the server to join (see Server Status box at the top of the page), then roleplay!
That's it! And for those who are new to this game, it's FREE to play!
The Game of Thrones Team
Last Updated on Tuesday, 13 September 2011 17:34