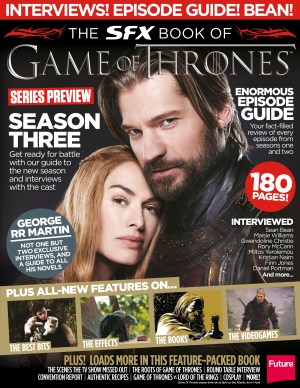 George R. R. Martin, the writer behind the wildly successful Game of Thrones novels and television series, talks exclusively to SFX for its Game of Thrones bookazine and reveals how he'd love to be more involved with the television series and talks of plans to cut down the characters in his next book.
With the hotly-anticipated third season airing in April, Martin tells SFX: "There's part of me that would like to be more involved with the television series, to write three or four scripts each season instead of just one, and to be on set every day. But I still have two gigantic books to write and I can't possibly take off time to do that. So the books are my babies."
Regarding the forthcoming books, Martin goes on to warn readers: "It's my intention to cut down the number [of characters], so be afraid, be very afraid – your favourite may not survive the next book!"
Martin also talks extensively about the difficulty of striking a balance between the two audiences: "There are definitely two distinct audiences: the readers and the viewers. The readers have read the books first and some of them have practically memorised them. They're watching the series now and in some ways they're judging it through the prism of books. They're very conscious of any deviation from what is in the books and of any changes or omissions, and they're not necessarily pleased by those."
"On the other hand, there are the viewers who are watching the TV series first and then they may go on to read the books – or maybe they won't . . . They're just looking at it, as a TV series first, so their idea of the characters is pretty much the actors they see on TV, and the dialogue they see on TV is sort of canon to them. They're looking through the other end of the telescope if you will, and sometimes the two different audiences have quite different reactions to a scene, a character or a particular plot development, and that's fascinating as well."
The full interview can be read in the SFX Game of Thrones bookazine, on-sale now. The 180 page SFX book contains exclusive interviews, HBO episode guides, character biographies, beautiful artwork and much much more! For fans of the books and of the HBO television series who're dying to learn more about the dark gritty world of Westeros and its characters, this book by SFX is a must have.