A Dance With Dragons - A Song of Ice and Fire Book 5
News -
Latest News
Sunday, 24 April 2011 12:00
Well it looks like Amazon has a release date for A Dance With Dragons. July 12, 2011. And Martin seems pretty confident about it, so I think it has finally arrived!
On Amazon: A Dance with Dragons: A Song of Ice and Fire Book 5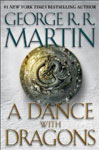 It's also available for pre-order. Yay!
Last Updated on Sunday, 24 April 2011 11:00